Rivermont Independent Living
Rivermont Independent Living in Norman, OK
Rivermont Independent Living, located in Norman, OK, offers active seniors the opportunity to say goodbye to household tasks and live a maintenance-free, carefree lifestyle focusing on wellness. Our beautiful residence features a vibrant lifestyle that makes life even more engaging and vibrant. Welcome to Rivermont Independent Living - a lifestyle worthwhile.
Discover Independent Senior Living in Norman, OK
Rivermont Independent Living provides residents with the amenities, services, and resources that can allow them to focus on their wellness goals and lead an active lifestyle. Here, choosing what comes next is always up to you, and you decide what's on your daily to-do list.
Rivermont Independent Living makes maintaining a healthy and social lifestyle even easier. New neighbors become quick friends over a cup of coffee or a rousing card game. Picking up a consistent walking routine is easier when you have a few neighbors to lace up their shoes with you. Even communicating with your physician is more productive when you can spend time with them, unrushed, at an on-site suite right on Rivermont Independent Living's campus.
Here, you make the choices that make you feel your best, and meet new and exciting people.
Life at Rivermont in Norman, OK
Residents already know that life at Rivermont in Norman, OK, is anything but ordinary. Here, you'll come and go as you please, choosing to relax for the day, where to plan your next trip, and which happy hour event you'll attend.
Life at Rivermont in Norman, OK, begins with spacious apartment living. We offer multiple floor plans for one, two, and three-bedroom options. Each includes:
Fully equipped, modern kitchens

Washer and dryer connections

Plenty of closet and storage space

Individually controlled heating and air conditioning

So much more!
In addition to your beautiful home, you will have the opportunity to enjoy all of our on-site amenities, services, and resources that will keep you feeling your best. Life at Rivermont in Norman, OK, is full of new neighbors, new experiences, and new opportunities.
Exceptional Senior Living in Norman, OK
Senior living residences are not all the same. Rivermont features exceptional senior living in Norman, OK, finding new ways to delight residents and exceed their expectations. For example, our Gold Leaf Dining program ensures that every meal is a true experience. Our restaurant-style dining means you'll always be able to select off a menu full of entrees and dishes that are both delicious and nutritious and enjoy it with a tableful of friends.
Exceptional senior living in Norman, OK, also means giving residents the opportunities to try something new or explore favorite passions. At Rivermont, residents enjoy an event calendar and an entire life enrichment program. Events include group exercise classes, spiritual fellowship, happy hour socials, live concerts, and more.
Rivermont also offers exceptional wellness services personalized to the individual's personal preferences. Associates are there to point residents in the right direction to make informed decisions that will benefit their overall health.
See the Best Independent Living Residence in Norman, OK
If you are looking for independent senior living in Norman, OK, make Rivermont a must on your visit list. Associates would love to show you around the residence and why it is different from the rest.
We hope to see you soon!
Meet the Residence Director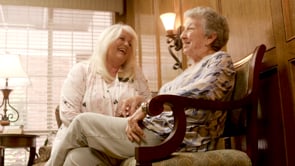 Residence Events
Earth Day: Can you dig it?

28 Apr 2023 2:00 PM

Taking care of the Earth starts with taking care of the trees, plants, and flowers around us. Join us as we learn the basics of tree care with our featured speaker, Lumberjane. We're thrilled to welcome Arborist Barbara Fuson, also known as Lumberjane, to our residence! She'll talk about correct pruning methods and tree care tips. Before you leave, you'll also have time to plant flowers in pots to take home, visit with friends, and enjoy snacks. RSVP to save your seat!

Yes, save me a seat

Thriving As You Age: Living Life To The Fullest

23 Mar 2023 2:00 PM

Ingrid Bergman said, "Aging is like climbing a mountain; you get a little out of breath, but the view is much better!" We couldn't agree more. Join your friends at Rivermont as we celebrate the privilege it is to age. We'll talk about how to live life to the fullest and thrive at your age, no matter your challenges. It's the perfect mix of education, celebration, and encouragement. With Guest Speaker: Dr. Andrew Horton, Ph.D. Award-winning screenwriter & author; Professor Emeritus at The University of Oklahoma

Shamrock'n Roll

15 Mar 2023 3:00 PM

Everyone's Irish on St. Patrick's Day, so don your favorite green clothing and meet us at Rivermont for our Shamrock 'n Roll. We'll have live Celtic music, festive snacks, and lots of friends to connect with. RSVP and we'll save you a seat! Enjoy LIVE CELTIC MUSIC BY Black Oak Shillelagh Band

Paint Pouring Party *FULL- Not Accepting New Reservations*

28 Feb 2023 2:00 PM

Paint pouring is an easy technique that combines acrylic paint, a piece of canvas, and your creativity! Join us at Rivermont Independent Living for a free event where you'll learn to pour, how colors work together, and different pouring methods. Leave with your own abstract, beautiful creation. Beginners welcome! Bring your imagination and a friend!

All Wrapped Up

13 Dec 2022 2:00- 5:00 PM

Unload your holiday stress. Let us wrap your gifts! You've made your list, checked it twice, and got all of your shopping completed. Now, let us take care of the rest by wrapping your gifts while you enjoy a hot cocoa bar and festive snacks! Kick up your feet and enjoy the company of your friends at Rivermont Independent Living - you deserve a break after finding the perfect gift for everyone to put under your tree! We'll wrap gifts and tie them with a bow to take home with you. RSVP so we can be sure to grab enough wrapping paper for everyone!

Holiday Wreath Workshop

08 Dec 2022 3:00 PM

Could your front door use a little festive touch to get your guests in the holiday spirit? Come make your own wreath that expresses your personal style in our upcoming free workshop! Join your friends at Rivermont as we learn how to create a festive holiday wreath. Don't worry if you haven't done it before: beginners are welcome and the only prerequisite for attending is a healthy dose of holiday spirit. Seasonal treats and refreshments will be served.

Veterans Day

11 Nov 2022 2:00 PM

Join your friends at Rivermont as we celebrate Veterans Day. We will honor not only those who have served in the past and those who serve now, but also their family members who stood alongside them. We look forward to seeing you there for celebration, refreshments, and camaraderie. RSVP so that we can plan appropriately. Light snacks & refreshments will be served.

Oktoberfest

20 Oct 2022 3:00-5:00pm

Prost! It's time to grab a bratwurst, don your lederhosen, and listen to polka music. Why? Because it's Oktoberfest! Join your friends and family at Rivermont as we gather together to enjoy great company, German food and festive music. On The Menu Bratwurst, Sauerkraut, Giant Pretzels with Dipping Sauces, Streusel, Beer, Wine & Punch

Grandparents Day Brunch

16 Sep 2022 10:00am-12:00pm

Grandparents are a blend of wisdom, guidance, wonderful stories and love. We are ready to celebrate you and all of your contributions at our Grandparents Day Brunch. Invite your family and join us fo r photos, fond memories and a delicious brunch. Sit back, relax, and let us take care of all the details so we can celebrate you properly.

Hawaiian Luau

08 Sep 2022 2:00-4:00pm

You don't have to visit Hawaii to say aloha to new friends and a good time. Join us as we transform our beautiful residence into a summer paradise complete with fun drinks and Hawaiian fare. Guest speaker Adriana Horton will have expert tips for travel to the islands. Join the fun, and dress like you're headed to paradise - the best dressed wins a Paradise Prize Basket! RSVP for you and a friend!

Classic Cinema: August: Osage County

18 Aug 2022 2:30pm

We're rolling out the red carpet for you! Lights, camera, action - we're showing classic movies, complete with popcorn and all your movie favorites. Join us this summer on the 3rd Thursday of the month in the cool comfort of our beautiful theater.

Classic Cinema: Oklahoma!

21 Jul 2022 2:30pm

We're rolling out the red carpet for you! Lights, camera, action - we're showing classic movies, complete with popcorn and all your movie favorites. Join us this summer on the 3rd Thursday of the month in the cool comfort of our beautiful theater.

Classic Cinema: True Grit

16 Jun 2022 2:30pm

We're rolling out the red carpet for you! Lights, camera, action - we're showing classic movies, complete with popcorn and all your movie favorites. Join us this summer on the 3rd Thursday of the month in the cool comfort of our beautiful theater.

Succulents & Stress

09 Jun 2022 4:00-5:00pm

Guest speaker Miranda Kieffer, RN, will be talking specifically about succulents and how almost anyone can help these desert dwellers thrive in their homes. They are beautiful, unique, and caring for them can decrease stress, anxiety, and depression.

Succulents & Stress

09 Jun 2022 2:00-3:00pm

Guest speaker Miranda Kieffer, RN, will be talking specifically about succulents and how almost anyone can help these desert dwellers thrive in their homes. They are beautiful, unique, and caring for them can decrease stress, anxiety, and depression.

Beautify Your Garden

19 May 2022 10:30am

Do you have a green thumb? Spring is here and it's time to liven-up the atmosphere with your favorite flowers! Join us at Rivermont for the latest tips on flower potting and gardening so you can beautify your garden like a master!
Floor Plans
Independent Living Floor Plans
Independent Living
Offering a vibrant lifestyle and the best in maintenance-free living, Independent Living at Legend® gives you the freedom to enjoy life on your terms among friends and neighbors who share your passion for life. Come and go as you please, relax, travel, contribute to the community, rekindle old interests — or even explore new ones — all while knowing that our helpful associates are committed to helping you create the lifestyle of your dreams.
Choose from spacious one, two and three-bedroom apartment floor plans featuring:
- Private verandas
- Fully equipped kitchens
- Washer and dryer connections
- Generous closet space
- Individually controlled heating and air conditioning
- Fire and smoke sprinkler systems
- Emergency Response System
Good health is vital to maintaining your independence. Our Health and Wellness programs include regular monitoring, while an on-site Home Health Care office will see to your healthcare needs in the privacy of your own home. It's all part of keeping you healthy and happy, so you can enjoy the lifestyle you've earned.
*Some amenities not available at all residences.
What can I expect from a move to an Independent Living Residence?
We believe the way you live your life should be entirely up to you. That's why we offer a wide range of choices — from floor plans and services to a full calendar of fun, rewarding and educational activities that bring a world of possibilities to your door. You will enjoy services and features such as:
- Gold Leaf Dining – Restaurant-style dining created with your nutrition needs in mind
- Cultural and community events
- Education programs and religious services
- Entertaining outings
- Outside speakers
- Housekeeping services
- Covered porches and patios
- Lakeside walking paths
- Covered front entry
- Garages with openers (optional)
In addition, Legend's independent living for seniors is all about the wide range of amenities provided to suit any interest. Stay fit, indulge your favorite hobbies, pamper yourself at our salon or catch a film at our theater. Independent Living is about possibilities, and you'll find a world of them right here.
How much does Independent Living cost?
Because of the variety of apartments and service options available, affordable Independent Living for seniors rates can vary. Please contact us for assistance in determining monthly costs based on your unique situation.
To learn more about monthly rates in your area, find a Legend Senior Living residence, schedule an appointment and visit the residence. We can help you estimate costs and make an informed decision.
How Legend Senior Living's Independent Living is Different From Other Options
It's no wonder why Legend Senior Living ranks among the best senior living residences - our residences are vibrant, engaging, active, and packed with possibilities. Our independent living residences are created to suit the needs and wants of the residents who live here, which means you can always find an event to attend that you'll love, a meal to try that you'll order again, or a new friend who is ready to experience life with you.
As one of the best senior living residences, Legend independent living residences offer a maintenance-free lifestyle that gives you more time to pursue what matters to you. What comes next? You decide. We're here to support you and provide the amenities and services you need to make your life exactly what you want it to be.
Is Independent Living Right for You?
Is independent living right for you? If you can answer "yes" to any of these questions, you would fit right into the Legend lifestyle.
- Would I like to spend more time doing something I love than maintaining the house?
- Is preparing and cooking healthy meals three times a day too much?
- Would I want to live among like-minded neighbors who are always up for saying hello and trying something new?
- Do I wish there was a fitness center or swimming pool right down the road from my home?
- Am I looking for affordable independent living for seniors that doesn't require a huge buy-in fee?
- Could I benefit from services like housekeeping visits, transportation services, and laundry services?
The Legend lifestyle is waiting for you!
Gold Leaf Dining
Lively conversations, rich aromas and exquisite flavors. At Legend®, dining is an experience that delights all the senses.
Legend's holistic approach to dining is more than just delicious food. We place the highest priority on the nutrition and hydration that nourishes your body and mind. Nutritious, flavorful dishes served in an inviting, enjoyable atmosphere are important to enhancing wellness and adding wholeness to life.
Expertly planned by dieticians and prepared by our expert Gold Leaf Chefs, meals are an experience you'll want to savor while catching up with friends and neighbors. Choose from a menu of delicious entrees or order something from our Café Menu in the comfort of the main dining room. Suppose you miss a mealtime or just have a craving, order from our Anytime Dining selections. Even submit your own special recipe. At Legend, you'll gather around our table and enjoy great food and good company every time you dine with us.
More About Gold Leaf Dining
While all senior living residences offer meals served in a busy dining room, Legend Senior Living's approach is more than just good food on a plate. We know the value of gathering for a meal, planning the day with friends over a cup of coffee and a stack of pancakes, or catching up with neighbors over an appetizer. At Legend Senior Living, dining is an event to look forward to.
Our Menu
When you visit a senior living residence, it's important to take a look at the independent or assisted living food menu. Here at Legend, we offer a diverse menu so everyone can find something they love when ordering. You'll find fresh, seasonal options and comfort foods that are just as good as mom used to make. Most importantly, residents always have a choice of what to enjoy next.
The Social Side of Dining
At Legend Senior Living, we pay close attention to the social well-being of the residents who reside here. After all, studies have demonstrated that feeling connected and supported by peers is an important indicator of physical and mental health. And while residents enjoy events and programs throughout the day, meals are a key time in the daily routine when connection is even easier.
You'll find residents chatting and laughing around any Legend Senior Living dining room table. We also aim to make dining feel extra special by offering themed meals and live music before, during, or after a special meal.
In short, Legend dining rooms aren't like other senior living food service companies. No, at Legend Senior Living, residents enjoy a true restaurant-style dining experience that will benefit all aspects of their overall health.
Join us to experience the difference! Contact a residence near you to schedule a visit and a meal. Bon appetit!
Companion Services
Here at Legend Senior Living, we are always searching for ways to meet the needs of the residents who call our residences home. Each resident is unique, so we have to get creative to meet their preferences. Our Companion Care Services are just one way we can give residents what they need in a personalized way.
What Are Companion Care Services?
Sometimes, you may need an extra hand or a friendly ear. Our Companion Services provide personal assistance with a wide range of tasks or simply the company of someone who cares to promote independence and free up time for family or caregivers.
Our Companion Care Services can include:
- Socialization and support
- Encouraging participation in activities
- Helping with correspondence
- Reading, visiting
- Sharing interests and talents
- Participating in hobbies and crafts
- Aiding in personal shopping
- Escorting for family dinners or social events
- Additional housekeeping
- Information source
- Additional assistance with personal care
- Range of motion exercises
- Assistance with walking and transfers
- Assistance with morning/nighttime routines
Our senior care companion services can also provide friendly visits for a few hours, offering residents the opportunity to receive one-on-one attention, a familiar face, and a listening ear.
Offering More Than Traditional Senior Companion Services
At Legend, we don't offer services that simply meet expectations or are the senior living norm. Instead, we find ways to create more personalized services tailored to each resident's individual preferences.
Our Companion Services are designed to offer that friendly and consistent check-in when residents need it and prefer it most. It's common to find a Legend associate stopping by for a cup of coffee and morning task assistance for a resident who is a self-proclaimed "early bird" who likes to get their day started with purpose. You can also find associates picking up a shopping list from a resident who prefers to get their groceries on Wednesdays, and the associate will already know their favorite brands and snacks.
Personal touches mean everything, and our Companion Services meet your expectations.

Learn More About Legend Senior Living
We would love to tell you more about the services that make life at Legend Senior Living a lot sweeter. Contact us to schedule your personalized visit today.
Life Enrichment
At Legend Senior Living, we understand that the best connections between residents and associates happen over a shared experience. Our Life Enrichment programs are designed to provide the opportunity for you to enjoy any event, program, trip, or another opportunity during your day - you make the call about what comes next.
Benefits of Activity Programs for Seniors
Older adults are at an increased risk of isolation and feelings of loneliness due to shrinking social circles, lack of transportation, and mobility challenges. Fortunately, choosing senior living at a Legend Senior Living residence can decrease isolation and increase connection with new neighbors and friends.
We know that residents can benefit from consistent connections with neighbors because we see it daily in the residences. However, research has also demonstrated that senior enrichment programs and senior care activities have positive health outcomes, including:
- Decreased rates of depression and anxiety
- Reduced risk of heart disease
- Decreased risk of obesity
- Increased immune system response
- Decreased rate of cognitive decline
A busy social calendar has many mental and physical health benefits!
What to Expect From Legend's Life Enrichment Programs
Whether you'd rather relax or fill your days with fun and rewarding activities, life at Legend® offers options perfectly suited to your unique style of living. You'll feel your world grow every day as you meet neighbors and take advantage of opportunities to learn, grow and indulge your interests. Choose from a variety of fun and enriching activities planned by our dedicated Life Enrichment Directors, including:
- Group games
- Arts and crafts
- Musical entertainment
- Cultural events
- Group outings
- Educational sessions
In addition, chapel services, Bible studies, and transportation to local worship services also provide spiritual guidance and promote growth.
We're constantly innovating to provide new programs, practices, and services to enrich your life and enhance your health and well-being every day.
You'll find a vibrant and active event calendar in all Legend Senior Living residences, all tailored to the interests of the residents. While our activities for seniors in assisted living, independent living, and memory care vary a bit, it's common to find events and programs like:
- Art workshops, like pottery making or photography
- Cooking demonstrations and tastings
- Trips to local shopping and dining destinations, museums, and nature preserves
- Walking clubs
- Fitness classes like yoga, tai chi, and group exercise
- Reminiscing and trivia
- Live concerts from local musicians
- Lectures about local history, health topics, and more
- Happy hour socials
Life is busy here but in the best way possible! We'd love to invite you to any residence near you to attend an event to see for yourself. Schedule your time today.
Wellness
Wellness at Legend Senior Living® is more than just a program that encourages healthy living for seniors. Designed to enhance the overall health and well-being of the residents we serve, resident wellness at any Legend® residence is our daily focus.
Our Approach to Wellness for Seniors
We care for the entire person - mind, spirit, and body. Socialization, physical activity, spiritual and emotional support, medication management, nutritional counseling, and assistance with activities of daily living are all addressed individually for each resident, and support is provided for their family.
We customize our services and meet each resident and their families at their point of need with care and service plans designed especially for their needs. Our Healthcare associates monitors each resident's progress daily and adjusts the plan and service delivery approach as needed. Resident and family communication and counseling meetings are conducted regularly to ensure that all are confident and secure in their knowledge of the individual care plan, while nurses act as a liaison with the resident's primary physician to coordinate medical care and integrate their instructions into the resident's tailored service plan.
Legend offers a variety of programs designed to enhance the well-being of the residents. Fitness and exercise programs offer chair aerobics, walking clubs, and fitness classes designed to enhance balance, ease arthritis pain, and more. Our Companion Services provide personal companionship and assistance with tasks, delivering caring support and a friendly ear when needed.
Because at Legend, wellness extends far beyond the physical. It's a priority that nurtures the mind, body, and spirit equally and leads to a more fulfilling lifestyle.
Great Care Plus Attention to Holistic Wellness
At Legend Senior Living residences, associates, caregivers and nurses work hard to ensure we provide outstanding support, assistance, and care to residents who need it. And while we are exceedingly proud of that care, we are even more proud of the caregiving associates for paying attention to the overall wellness of everyone we serve.
Many health and wellness programs for seniors at other senior living residences aren't focused on residents' physical, mental, emotional, and spiritual needs. At Legend Senior Living, caregivers and other associates get to know residents so that they can notice when something seems different. We want to catch problems before they become a medical crisis and ensure residents have access to the resources they need to feel their best all the time.