The Windsor of Lakewood Ranch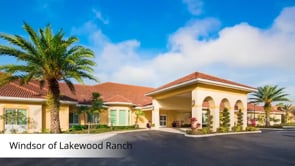 Located just outside sunny Sarasota, The Windsor of Lakewood Ranch specializes in assisted living services. We love serving seniors and their families near Sarasota, FL. Here, you'll find personalized support, new events and opportunities daily, and the chance to connect with your neighbors and form lasting friendships.
Life is better here, and we know you'll agree. Welcome to The Windsor of Lakewood Ranch.
The Windsor of Lakewood Ranch
The Windsor stands out among other Sarasota-area senior living residences because we specialize in assisted living. We have designed the entire residence to support independence and enhance wellness for all residents. You'll find plenty of natural, non-glare lighting and low-pile carpeting to reduce the risk of falls and intentional color selection that supports those with low vision and makes the residence even easier to navigate. We took care of every detail with a residence just for assisted living residents.
At The Windsor of Lakewood Ranch, residents enjoy amenities, services, and programs tailored to their personal preferences and interests in a welcoming, beautiful, and charming residence. Residents can take advantage of amenities that typical Sarasota senior living residences offer as well as convenient touches like an onsite salon and spa, private movie theater, and country kitchen.
Assisted Living at The Windsor of Lakewood Ranch
Assisted living at The Windsor of Lakewood Ranch is all about independence, meeting new friends, and enjoying new opportunities. Residents enjoy living a maintenance-free lifestyle which means they can say goodbye to household responsibilities like housekeeping and landscaping chores. With their extra time and energy, they can focus on building the lifestyle they have always wanted right here in sunny Sarasota. The Windsor of Lakewood Ranch has reimagined traditional assisted living, giving residents every chance to be independent, make their own decisions, and pursue new hobbies.
Our stunning 2-story design features floor-to-ceiling windows, plenty of natural light, amenities like a post office area, a bistro stocked with coffee, tea, snacks, and other favorite gathering spots like the living room and activity room or courtyard.
Residents also enjoy taking advantage of our renowned Gold Leaf dining program. Meals are chef-prepared and served three times daily in a bustling and vibrant restaurant setting where residents can catch up with neighbors over delicious entrees. Every meal is the chance to taste what the culinary team has to offer, and each meal is a true Gold Leaf dining experience around the table.
In addition to a beautiful setting and delectable meals, The Windsor of Lakewood Ranch offers personalized support and assistance to every resident. Expert caregivers and other associates are there to offer a friendly hand, give a reminder and word of encouragement, and be there to respond in case of an emergency. Each resident receives a personalized care plan, ensuring preferences and needs are at the forefront of every decision.
Residents at The Windsor of Lakewood Ranch are always welcome to participate in any of our life enrichment activities, events, or excursions. You'll find residents learning local history at a presentation, working on creation during an art workshop, singing along to favorite tunes during a live performance, or taking a trip to go shelling at the beach. Daily events and programs are designed to make life more fun, enhance wellness, and create connections with neighbors.
Leading the Best Assisted Living Residences in Sarasota, Florida
It's not easy leading the best senior living residences in Sarasota, Florida. Still, here at The Windsor of Lakewood Ranch, we are driven by providing only exceptional services and experiences to the residents who live here. When you call The Windsor of Lakewood Ranch home, you can enjoy amenities and resources that include:
Transportation locally to appointments and excursions

Housekeeping services

Around-the-clock support from trained associates

Personalized care and interventions based on your preferences

Vibrant programs, events, and trips

Post office

Salon and spa

Onsite movie theater

Recreation room, bistro, and country kitchen

Fitness center

Wellness resources include visiting professional services such as podiatry, portable x-ray, and therapy
Contact us to schedule your visit of the residence today. You'll be able to experience The Windsor lifestyle for yourself, and we are happy to answer any questions you may have. We hope to see you soon!
ALF# 10707
The Windsor of Lakewood Ranch Visitation Policy
Meet the Residence Director
Residence Events
Identifying Dementia And Knowing When To Seek Help

Dec 05, 2023 2:00 PM

Join us for an educational session on dementia and Alzheimer's. Learn about the signs and symptoms and early recognition. The Windsor team is here to explain the disease from the basics and beyond. RSVP to save your seat for this important conversation. Meet The Expert: Catherine McDermott, PMHNP, Owner of Gulfside Behavioral Care NP, Inc., Co-owner of Town Square University Parkway Adult Day Center and Coastal Senior Healthcare. Nurse Practitioner for 30 years. Specializing in geriatric psychology with a focus on cognitive impairments and dementia. Double board certified.

RSVP: Dec 05, 2023 2:00 PM

Listen Up: The Hidden Risks of Hearing Loss

Sep 22, 2023 2:00 PM

Did you know that hearing loss is linked with balance and mobility problems, fall risk, isolation, and even dementia? Learn more about the latest science in hearing loss including the benefits of hearing aids and how to protect your hearing. We are pleased to welcome Carol Pandis as she leads the conversation and then stays for a free hearing clinic. During the clinic, you can get a free hearing test, hearing aid cleaning, and ear wax check. Guest Speaker: Carol Pandis, Hearing Aid Specialist, Hear Again America.

Discover A New Tech Solution For Blood Sugar Monitoring

Aug 10, 2023 2:00 PM

Technology has given us a peek inside our bodies, making it easier to make healthy decisions that keep us feeling great. The latest tech that might help you lose weight, manage diabetes, and control metabolic conditions is the Continuous Glucose Monitor, and it could be a life changer. Join us as we welcome Registered Dietician and Nutritionist Nora Clemens and learn more about Continuous Glucose Monitors and how knowing our blood sugars throughout the day can provide us with a road map to feeling our best. With Guest Speaker: Nora Clemens, Registered Dietitian Nutritionist, Nutrition & Wellness Solutions, Nutrition Expert for 30+ Years

New Strategies In Fall Reduction

Jul 19, 2023 2:30 PM

Join your friends at The Windsor as we learn more than just the tried and true strategies for fall reduction. We'll be talking about the benefits of physical therapy, proper balance, and exercise and how that could decrease your risk. RSVP to reserve your spot today. Guest Speaker: Jennifer Christiansen, Physical Therapist Assistant, H2 Health, Bachelor's Degree in Nutrition & Dietetics
Assisted Living Floor Plans
Assisted Living
Designed for those who need assistance with life's daily tasks, Assisted Living at Legend® offers a personalized approach that tailors services to your unique needs, delivering only those you need and desire. You pay only for the services you choose.
Residents benefit from health care services delivered in a satisfying, comfortable environment that encourages individuality, independence and social interaction. Caring associates are there 24 hours a day to assist with the activities of daily living, including:
Bathing and dressing
Mobility
Medication management
What can I expect from a move to Assisted Living?
You may be surprised by the positive impact a move to a Legend residence can have on your life. You'll feel your world grow each day as you meet new neighbors and take advantage of opportunities to learn and grow. We focus on meeting all your needs — physical, mental, emotional and spiritual — with:
- Gold Leaf Dining – Restaurant-style dining created with your nutrition needs in mind
- Cultural and residence events
- Education programs
- Religious services
- Entertaining outings
- Scheduled transportation to appointments
- Housekeeping services
- 24-hour associates and licensed nursing associates
You'll also enjoy a private apartment where you can express your individual tastes. With one and two bedroom floorplans, you're sure to find the perfect residence for your lifestyle. Each apartment features:
- Kitchenette with microwave, refrigerator, sink and cabinetry
- Spacious bathroom with walk-in shower and photocell night light
- Telephone and cable connections
- Individually controlled heating and air conditioning systems
- Emergency call system with speaker response and water-resistant pendants
How much does Assisted Living cost?
Because our services are personalized to fit your needs, Assisted Living rates can vary. We encourage you to contact us for assistance in determining monthly costs based on your unique situation.
To learn more about monthly rates in your area, find a Legend Senior Living Residence, schedule an appointment and visit the residence. We can help you estimate costs and make an informed decision.
In addition, there are several funding solutions you may wish to consider. We encourage you to fully explore the options, and would be happy to assist you with that process, if needed.
How Legend's Assisted Living is Different From Other Senior Living Options
Legend Senior Living's residences offer a variety of living options to best serve residents. Assisted living at Legend is all about the additional support you or your loved one might need to have more energy, feel more confident, and secure.
Associates are available around-the-clock and provide personalized support with activities of daily living, such as showering, incontinence management, dressing, grooming, mobility support, and transfer assistance. Caregivers are also there to assist with medication management and to be there to respond quickly in case of an emergency.
Our nursing team oversees resident care, creating personalized care plans that ensure each assisted living resident gets the services they need to remain as independent as possible.
Is Assisted Living Right for You or Your Loved One?
You or your loved one might be a good fit for assisted living if you can answer "yes" to any of the following questions:
- Has there been a fall in the past six months?
- Is the older adult lonely or isolated? Do they wish they had more friends nearby?
- Is meal planning and preparation a time and energy-consuming task?
- Has there been significant weight loss or gain over the past 12 months?
- Does the adult find their medication schedule overwhelming, unrealistic, or intimidating?
- Does the person live with chronic pain or a complex medical condition?
- Does the adult worry about what might happen if they have a fall or other emergency alone at home?
- Are home care services no longer providing the person with the assistance they need? Is home care simply too expensive?
At Legend assisted living, our services are designed to enhance independence, encourage new friendships, and give residents the support they need to live life to the fullest.
FAQ
What is assisted living?
Assisted living is a senior living option that features 24-hour caregiver support with activities of daily living.
Does Medicare cover assisted living?
No. Medicare does not cover assisted living costs.
Do Veterans benefits cover assisted living?
Sometimes. Eligible Veterans or spouses can offset costs with Veterans Aid & Attendance benefits if they meet requirements and qualifications.
Do you eat in a dining room in assisted living?
Assisted living residences provide three meals served onsite in a restaurant-style dining room.
Can you have visitors in assisted living?
Yes! Most assisted living residences welcome residents to invite guests to the residence.
Gold Leaf Dining
Lively conversations, rich aromas and exquisite flavors. At Legend®, dining is an experience that delights all the senses.
Legend's holistic approach to dining is more than just delicious food. We place the highest priority on the nutrition and hydration that nourishes your body and mind. Nutritious, flavorful dishes served in an inviting, enjoyable atmosphere are important to enhancing wellness and adding wholeness to life.
Expertly planned by dieticians and prepared by our expert Gold Leaf Chefs, meals are an experience you'll want to savor while catching up with friends and neighbors. Choose from a menu of delicious entrees or order something from our Café Menu in the comfort of the main dining room. Suppose you miss a mealtime or just have a craving, order from our Anytime Dining selections. Even submit your own special recipe. At Legend, you'll gather around our table and enjoy great food and good company every time you dine with us.
More About Gold Leaf Dining
While all senior living residences offer meals served in a busy dining room, Legend Senior Living's approach is more than just good food on a plate. We know the value of gathering for a meal, planning the day with friends over a cup of coffee and a stack of pancakes, or catching up with neighbors over an appetizer. At Legend Senior Living, dining is an event to look forward to.
Our Menu
When you visit a senior living residence, it's important to take a look at the independent or assisted living food menu. Here at Legend, we offer a diverse menu so everyone can find something they love when ordering. You'll find fresh, seasonal options and comfort foods that are just as good as mom used to make. Most importantly, residents always have a choice of what to enjoy next.
The Social Side of Dining
At Legend Senior Living, we pay close attention to the social well-being of the residents who reside here. After all, studies have demonstrated that feeling connected and supported by peers is an important indicator of physical and mental health. And while residents enjoy events and programs throughout the day, meals are a key time in the daily routine when connection is even easier.
You'll find residents chatting and laughing around any Legend Senior Living dining room table. We also aim to make dining feel extra special by offering themed meals and live music before, during, or after a special meal.
In short, Legend dining rooms aren't like other senior living food service companies. No, at Legend Senior Living, residents enjoy a true restaurant-style dining experience that will benefit all aspects of their overall health.
Join us to experience the difference! Contact a residence near you to schedule a visit and a meal. Bon appetit!
Companion Services
Here at Legend Senior Living, we are always searching for ways to meet the needs of the residents who call a Legend Senior Living residence home. Each resident is unique, so we have to get creative to meet their preferences. Our Companion Care Services are just one way we can give residents what they need in a personalized way.
What Are Companion Care Services?
Sometimes, you may need an extra hand or a friendly ear. Our Companion Services provide personal assistance with a wide range of tasks or simply the company of someone who cares to promote independence and free up time for family or caregivers.
Our Companion Care Services can include:
- Socialization and support
- Encouraging participation in activities
- Helping with correspondence
- Reading, visiting
- Sharing interests and talents
- Participating in hobbies and crafts
- Aiding in personal shopping
- Escorting for family dinners or social events
- Additional housekeeping
- Information source
- Additional assistance with personal care
- Range of motion exercises
- Assistance with walking and transfers
- Assistance with morning/nighttime routines
Our senior care companion services can also provide friendly visits for a few hours, offering residents the opportunity to receive one-on-one attention, a familiar face, and a listening ear.
Offering More Than Traditional Senior Companion Services
At Legend, we don't offer services that simply meet expectations or are the senior living norm. Instead, we find ways to create more personalized services tailored to each resident's individual preferences.
Our Companion Services are designed to offer that friendly and consistent check-in when residents need it and prefer it most. It's common to find a Legend associate stopping by for a cup of coffee and morning task assistance for a resident who is a self-proclaimed "early bird" who likes to get their day started with purpose. You can also find associates picking up a shopping list from a resident who prefers to get their groceries on Wednesdays, and the associate will already know their favorite brands and snacks.
Personal touches mean everything, and our Companion Services meet your expectations.

Learn More About Legend Senior Living
We would love to tell you more about the services that make life at Legend Senior Living a lot sweeter. Contact us to schedule your personalized visit today.
Life Enrichment
At Legend Senior Living, we understand that the best connections between residents and associates happen over a shared experience. Our Life Enrichment programs are designed to provide the opportunity for you to enjoy any event, program, trip, or another opportunity during your day - you make the call about what comes next.
Benefits of Activity Programs for Seniors
Older adults are at an increased risk of isolation and feelings of loneliness due to shrinking social circles, lack of transportation, and mobility challenges. Fortunately, choosing senior living at a Legend Senior Living residence can decrease isolation and increase connection with new neighbors and friends.
We know that residents can benefit from consistent connections with neighbors because we see it daily in the residences. However, research has also demonstrated that senior enrichment programs and senior care activities have positive health outcomes, including:
- Decreased rates of depression and anxiety
- Reduced risk of heart disease
- Decreased risk of obesity
- Increased immune system response
- Decreased rate of cognitive decline
A busy social calendar has many mental and physical health benefits!
What to Expect From Legend's Life Enrichment Programs
Whether you'd rather relax or fill your days with fun and rewarding activities, life at Legend® offers options perfectly suited to your unique style of living. You'll feel your world grow every day as you meet neighbors and take advantage of opportunities to learn, grow and indulge your interests. Choose from a variety of fun and enriching activities planned by our dedicated Life Enrichment Directors, including:
- Group games
- Arts and crafts
- Musical entertainment
- Cultural events
- Group outings
- Educational sessions
In addition, chapel services, Bible studies, and transportation to local worship services also provide spiritual guidance and promote growth.
We're constantly innovating to provide new programs, practices, and services to enrich your life and enhance your health and well-being every day.
You'll find a vibrant and active event calendar in all Legend Senior Living residences, all tailored to the interests of the residents. While our activities for seniors in assisted living, independent living, and memory care vary a bit, it's common to find events and programs like:
- Art workshops, like pottery making or photography
- Cooking demonstrations and tastings
- Trips to local shopping and dining destinations, museums, and nature preserves
- Walking clubs
- Fitness classes like yoga, tai chi, and group exercise
- Reminiscing and trivia
- Live concerts from local musicians
- Lectures about local history, health topics, and more
- Happy hour socials
Life is busy here but in the best way possible! We'd love to invite you to any residence near you to attend an event to see for yourself. Schedule your time today.
Wellness
Wellness at Legend Senior Living® is more than just a program that encourages healthy living for seniors. Designed to enhance the overall health and well-being of the residents we serve, resident wellness at any Legend® residence is our daily focus.
Our Approach to Wellness for Seniors
We care for the entire person - mind, spirit, and body. Socialization, physical activity, spiritual and emotional support, medication management, nutritional counseling, and assistance with activities of daily living are all addressed individually for each resident, and support is provided for their family.
We customize our services and meet each resident and their families at their point of need with care and service plans designed especially for their needs. Our Healthcare associates monitors each resident's progress daily and adjusts the plan and service delivery approach as needed. Resident and family communication and counseling meetings are conducted regularly to ensure that all are confident and secure in their knowledge of the individual care plan, while nurses act as a liaison with the resident's primary physician to coordinate medical care and integrate their instructions into the resident's tailored service plan.
Legend offers a variety of programs designed to enhance the well-being of the residents. Fitness and exercise programs offer chair aerobics, walking clubs, and fitness classes designed to enhance balance, ease arthritis pain, and more. Our Companion Services provide personal companionship and assistance with tasks, delivering caring support and a friendly ear when needed.
Because at Legend, wellness extends far beyond the physical. It's a priority that nurtures the mind, body, and spirit equally and leads to a more fulfilling lifestyle.
Great Care Plus Attention to Holistic Wellness
At Legend Senior Living residences, associates, caregivers and nurses work hard to ensure we provide outstanding support, assistance, and care to residents who need it. And while we are exceedingly proud of that care, we are even more proud of the caregiving associates for paying attention to the overall wellness of everyone we serve.
Many health and wellness programs for seniors at other senior living residences aren't focused on residents' physical, mental, emotional, and spiritual needs. At Legend Senior Living, caregivers and other associates get to know residents so that they can notice when something seems different. We want to catch problems before they become a medical crisis and ensure residents have access to the resources they need to feel their best all the time.